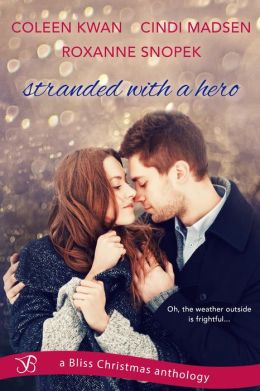 Title: Stranded with a Hero (Anthology)


Authors: Karen Erickson, Coleen Kwan, Cindi Madsen, Roxanne Snopek


Publisher: Entangled: Bliss
Release Date: November 11, 2013
Pages: 350
Buy Link: Amazon

Blurb:



Getting snowed in never felt so good as boundaries are crossed, opposites attract, and friends discovering more promise a Christmas no one will ever forget.





Loving Mindy by Karen Erickson




Mindy can't believe she's stuck with her ex–best friend—and the man whose heart she broke years ago—for the holidays, though the tension between them is more than enough to keep them warm. Josh Powers never forgot Mindy, but he can't risk his heart a second time.





White-Hot Holiday by Coleen Kwan




Naomi's sworn off men like Aaron—rich, cocky, and dismissive of holiday traditions. Aaron decided to spend Christmas in sunny Australia to avoid snowy New York, not to fall for the woman his best friend warned him away from. But when a volcano grounds him, Aaron and Naomi's relationship becomes eruptive.





An Officer and a Rebel by Cindi Madsen




The last person police officer Nate Walsh expected to discover in a snowstorm is his brother's ex and former town rebel, Kelsey Cooper. She's his complete opposite and totally off-limits, but as they wait out the storm together, all he can think is how he wishes she'd stay forever.





Saving the Sheriff by Roxanne Snopek




Frankie Sylva was determined to free the reindeer cruelly held for a holiday roadshow, even if it meant risking her own life. Deputy Sheriff Red LeClair set out to save a stranger in a snowstorm, never expecting he'd be the one to be rescued.
Review
I sure love my holiday stories!!
Loving Mindy
I really enjoyed the humorous banter between Mindy and Josh. I enjoyed reading the interaction between them, clearly demonstrating that they've known each other for a long time. I specifically enjoyed their cookie time :)
Just as he remembered, the cookies were melt-in-his-mouth delicious, buttery and sweet, and the frosting was good, too. He ate one for every three he frosted, laughing when Mindy glared at him, pointing her green-frosting-covered knife straight at him in an accusatory way.

"I saw you eat that cookie, Joshua Powers. I believe it's the third one you've devoured in fifteen minutes."

"And I've frosted at least ten." He waved a hand at the cookies he'd already finished, which sat on the cookie sheet. "You've frosted what, three?"

His gaze dropped to the paper plate Mindy was using to set her frosted cookies on. They were like little works of art, frosted carefully, sprinkles scattered across the top, whereas he'd just frosted and moved on like he was some sort of machine.

"Well, they are a little prettier than mine," he conceded when she hadn't said anything.

She set a pretty green tree with red and white stars sprinkled on top on the plate, watching him with both brows raised. "A little prettier? Josh, your cookies are sort of...clumpy-looking."

"Fine, a lot prettier." He sighed, then snagged one of the clumpy-looking cookies off the pan and shoved it in his mouth.

"And clumpy is definitely edible, I might add," he said once he swallowed.

Shaking her head, she started in on another cookie, her knife moving precisely over the cookie. "You haven't changed a bit. All about getting it done and not paying attention to the details."

"What are you talking about? I'm all about the details." Now he was offended. He was an arson investigator for God's sake.

Looking for the details was what he did for a living.

"Not when it comes to frosting cookies."

"I don't need to make them look pretty. They taste so damn good, no one's going to notice. They'll be too busy shoving them down their throat like I am."
I also enjoyed the time when Mindy would come on to Josh a bit strong. I treasured those moments when a woman took the initiative and went for what she wanted. I was proud of Mindy for that, no matter how long or short it lasted.
White-Hot Holiday
Aaron was so adorable! He was charming all around, so naturally, how could Naomi resist him? He was definitely sexy the way the author described him. I liked his personification of his dimples!
"I'm very good at customer service. See these dimples here? They're my secret weapon. I've closed major deals with them...They don't teach you the proper use of dimples at Columbia. It comes from experience."
Oh, did I mention Aaron was the Grinch in sexy form? Poor Naomi, she'd been shocked countless by Aaron's "honest" declarations about Christmas.
"For once in my life, I need some darn mistletoe."
I also enjoyed the longing that was in this story. Aaron missed his family, something he didn't expect. It reminded me of how I should be feeling about mine. Anyway...
"Can you make things clear for the dumb male here? Are you going to kiss me for real now or push me away after one little peck?"
Finally, I enjoyed the big gestures that Aaron and Naomi did for each other. Definitely could feel the love.
An Officer and a Rebel
In this story, I really enjoyed Nate's awkwardness. He was the guy who always did the right thing, even when it meant possibly giving up his happiness. Holding back his feelings sure made him plenty awkward. That was adorable. It seemed he wasn't very good with the ladies, though I have no way of proving that. He also tended to say things that left Kelsey thinking about what he really meant.
"Because you are the prettiest thing I'd every laid eyes on, and I was afraid everyone would notice I was staring."
When it became apparent that he couldn't hold it any longer, I loved the way he expressed his feelings toward Kelsey. It was indirect, but definitely swoon-worthy.
Kelsey: "Okay, so foreign vacation. Then where would you go?"
Nate: "Let's just cut to the chase and say wherever you'd go."
Finally, I enjoyed Nate's and Kelsey's little quirks like Nate scrunching his eyebrows and Kelsey wrinkling her nose. So adorable.
N: "One day you're going to get me tossed in jail for indecent exposure."

K: "I certainly hope so."
Saving the Sheriff
This story was the one story that was hardest to get into. The romance took FOREVER. Sure, the tension was there, but the attraction seemed almost non-existent the way things were going. It was slow and uneventful. Despite all that, I did enjoy the innuendos between the characters, even if they were unintentional sometimes.
Frankie: "Are you kidding me? You're taking my boots?"
Red: "You'd prefer handcuffs? I've got the equipment. Say the word."
I also enjoyed Frankie's rambling when she got really nervous. She could talk without even taking a breath! Whew! That was exhausting just reading it. It was one of my favorite things about her :)
As a rare treat, I enjoyed a supporting character named Bliss. She was the housekeeper of the Three River Ranch. She was something, alright. She said what was on her mind, but she was still old and half the time, didn't know the double meaning of the things she said.
"The only one with problems is you, gal. Now, come help me with breakfast. The rest'll be here any minute. And you!" She poked a finger in Red's direction. "Put your clothes on. I'm pretty sure she's already seen what's what. No need to keep flogging that horse." A laugh burst out of Frankie. "What? What'd I say this time?"
Finally, I loved the way Red and Frankie communicated with each other through a song. When they both had something important to say or a confession, they would bust out in a song. It was absolutely wonderful. Even if I couldn't hear Red's voice, I could imagine what a beautiful voice he had.