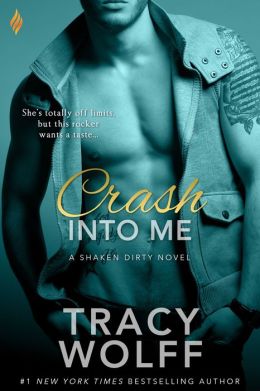 Title: Crash into Me
Series: Shaken Dirty, #1
Author: Tracy Wolff
Publisher: Entangled: Brazen
Release Date: October 14, 2013
Pages: 183
Buy Links: Amazon

Blurb:



Jamison Matthews has lusted after Ryder Montgomery since she was a preteen. But now that Ryder and her brother's band, Shaken Dirty, has made it huge, she's just one of many pining for the brooding lead singer. Too bad Ryder still sees her as a little sister. Not that it matters. Her brother would never allow it, and the last thing Jamison wants is to be another notch on a rock star's bed post. Even if it's Ryder's.





Ryder doesn't deserve happiness. After his fame destroyed his last girlfriend, he swore he'd never fall in love again. So when Jamison, the girl he's been in danger of loving for years, joins the band on the road, he'll do anything to deny the sparks between them--even after one hot night together. But Jamison is determined to show Ryder that he's worthy of love--her love--and that she's all grown up and ready to play.
Review
I am so overcome with emotion, I don't even know where to start!
This book was one of the VERY BEST I'VE EVER READ! Absolute masterpiece from the first page to the last! The structure and everything was just absolute genius; it's a wonder authors don't write with the exact same structure. It would definitely guarantee a bestseller!
"...watching Ryder was like watching sex in motion."
Jamison had been into Ryder for about a decade. One thing about Jamison was that she wanted Ryder, but she was so insecure, she didn't think she was worthy of him. She didn't think she was beautiful, and she kept putting herself down when Ryder was torn between going after her or answering to her protective brother.
"The proper early-morning-after-a-bender breakfast is waffles. Heavy on the syrup with extra bacon."
Ryder, on the other hand, was one hot rock and roll god. Somehow, he reminded me of someone I knew who was less than impressive, yet interesting nonetheless. The author did such a wonderful job painting a picture of Ryder in my mind. He looked like a perfect alpha who had a tortured soul. Something about those characteristics draws women to such men, I suppose.
Ryder was just as insecure as Jamison, if not more. He kept thinking that he wasn't good enough for Jamison because she was innocent and such a good person. He didn't want to hurt her by having his "failures" spill over onto her life. For crying out loud, sometimes I just want to hit Ryder. I'm glad when Jared did. That was a funny scene:
J: "You think I don't recognize the stupid look on your face? It's the same one I get when I talk about Vicki."

R: "How would you know?"

J: "Wyatt took a picture once. He takes great delight in tormenting me with it. Telling me how whipped I am."

R: "You are whipped."

J: "I am, and it's a good feeling my friend. You and Jamison--"

R: "....if you want to take a shot at me, I'll give you one free one. But after that I'm fighting back."

J: "Dude, I'm not going to hit you."

R: "Thanks, I--"

J: "Then again..." (Jared's fist plowed into Ryder's jaw, and Ryder flew back into the wall)

R: "Shit! What the fuck? I have to sing in a couple hours."

J: "Yeah. I figure that should make it nice and painful."

R: "I thought you said you weren't going to hit me."
Despite all of the demons that each character faced, Ryder and Jamison really did have something special. Their time together was full of passion, unrealized love, and genuine care for each other that was founded a decade ago. It was the most amazing story I've ever seen unfold. I can't even say enough to accurately express how I feel about this book.
Finally, I enjoyed very much the humor in this book. There were times when I would just laugh out loud, once again, the neighbors probably thinking I'd lost my mind. I mean, who wouldn't LOL while reading the scene with Ryder and Wyatt?
R: "I'll be back in the morning and we'll talk..."
W: "Bullshit. You'll be back tonight...or I'm going to get out of this bed and kick your ass."
R: "That's big talk for a guy in a hospital gown."
W: "Don't make me prove it. Nobody needs to see my ass hanging out the back of this thing."
It is MANDATORY that you read this book! As a matter of fact, I'm incredibly in love with it, that
I'll gift ONE of you an Amazon copy of this book
. Just comment below with ALL of the following:
Why you want to read this book
What's the ABSOLUTE VERY BEST book you've read and WHY?
Email address so I can contact you if you win :)
If the questions above are not answered, I'll take your comment as a spam or you didn't want to enter the giveaway. Otherwise, good luck to everyone! This giveaway ends October 31, 2013.