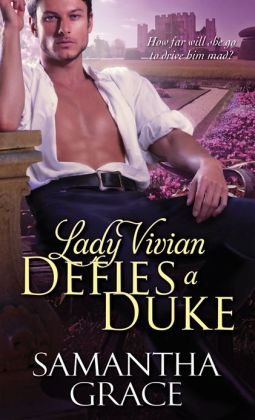 Title: Lady Vivian Defies a Duke
Series: Beau Monde Bachelors, #4
Author: Samantha Grace
Publisher: Sourcebooks Casablanca
Release Date: May 7, 2013
Pages: 352
Buy Links: Amazon (Kindle) | Amazon (Paperback)

Blurb:



The Naked Truth





Lady Vivian Worth knows perfectly well how to behave like a lady. But observing proper manners when there's no one around to impress is just silly. Why shouldn't she strip down to her chemise for a swim? When her betrothed arrives to finally meet her, Vivi will act every inch the lady—demure, polite, compliant. Everything her brother has promised the man. But until then, she's going to enjoy her freedom...





A Revealing Discovery





Luke Forest, the newly named Duke of Foxhaven, wants nothing to do with his inheritance—or the bride that comes with it. He wants adventure and excitement, like the enchanting water nymph he's just stumbled across. When he discovers the skinny-dipping minx is his intended, he reconsiders his plan to find Lady Vivian another husband. Because the idea of this vivacious woman in the arms of another man might be enough to drive him insane—or to the altar.
Review
This book was one of the best I've read this year!
I'm so glad that I signed up to review this book. Samantha Grace should be in the bestseller's list if she's not already. This book had me chuckling with the turn of every page! Lady Vivian was such a lively woman; it was so refreshing reading her story. This book had so much going for it. I thought, once Lady Vivian and the Duke of Foxhaven decided they wanted to marry each other, that the book must be coming to an end. I was so wrong.
The conflict in this book kept me on my toes and inspired emotions in me that I welcomed eagerly. There were times when I just wanted to strangle one of the characters for her sheer stupidity. There were moments when I just wanted to weep tears of joy because of the beautiful romance unfolding in front of me.
Overall, Samantha Grace was a brilliant genius. I'm really glad I was able to read this book. She's definitely added to my favorite authors list!
Check out some of my favorite scenes!
She took a deep breath, glared at him briefly, and then returned her attention to the lane. "If you think to frighten me into doing your bidding, you are wrong. You're not that scary."

Luke smiled to hide his surprise. Lady Vivian had even more pluck than he'd imagined.

She shifted the reins to one hand and placed her free one on his thigh. His breath whistled on an inhale. She slanted a smirk in his direction and squeezed.

"Jiminy!" Luke captured her hand and forcefully returned it to her lap. He shifted away before she noticed the rise in his breeches.

"Two can play your game," she said. "If you touch me, I will touch you right back."
Vivian: "Well, are you fond of sweets, Your Grace?"




Luke: "Do you reference baked goods, or are you schooled in code and espionage?"
"Only you would be concerned with the emotional welfare of a farm animal."