Today, I have the wonderful Cassi Carver! I've met her a few times and she's just absolutely amazing. She's a very animated reader! I'm hoping to see her tonight! Meanwhile, check out her series below!
Title: Dark Flight
Series: The Shadow Slayers, #3
Author: Cassi Carver
Publisher: Samhain Publishing
Release Date: May 21, 2013
Pages: 263
Buy Link: Amazon | BN | Samhain

Blurb:



In a world of shadows, a pure heart can be the most dangerous weapon of all.





Kara has been training for months to help take down Brakken—the merciless black-wing who is making life hell for the Demiáre. But when Julian discovers a scout has been tracking Kara, he wants her out of the fight—even if it means breaking her heart in the process.





Gavin isn't much better. He's already lost so much to Brakken and has no intention of allowing the woman he loves to be the next sacrifice. He and Julian have their hands full trying to fight Brakken's army and keep Kara safe, especially after her recent visit to the mythical white-wings. Since her return, she's been acting decidedly…strange.





With a terrible battle looming, Kara doesn't have time to think about her conflicted feelings for Gavin and Julian—or the fact that she's developed an unnatural taste for Gavin's blood. But if she thought it was complicated evading mysterious scouts and fending off vicious black-wings, she's learning that's nothing compared to loving two strong-willed men.



Product Warnings:



This book contains angels that aren't what they seem, a heroine with mad midwifery skills, and a metamorphosis that will change life as we knew it.
Title: Shadow Rising
Series: The Shadow Slayers, #2
Author: Cassi Carver
Publisher: Samhain Publishing
Release Date: September 25, 2012
Pages: 272
Buy Link: Amazon | BN | Samhain | Sony

Blurb:

Her lover is back from the dead…but now there's hell to pay.

When Kara Reed learns her bondmate, Julian, is truly dead, and that Gavin has seemingly skipped town, she figures things have hit rock bottom. But soon, a string of bizarre accidents has her doubting those closest to her. And to make matters worse, the demon-king's brand carved into her best friend Abbey's stomach is deteriorating by the day.

Then a powerful coven of witches issues Kara an ultimatum. Bring them the blood of a true fallen angel—the only thing that will heal Abbey—or die. Kara would do anything to help her friend. Problem is, the only fallen angel she's seen lately is the disoriented black-wing who attacked her scouts. One who looks suspiciously like Julian. Getting his blood might be easier if he was more interested in kissing her than killing her.

Caught between a coven of vengeful witches and a murderous dead lover, Kara must deliver the blood, heal the slow poison of Abbey's brand, and save Julian from being consumed by the Abyss. But to do this, she may need the help of the one man she swore never to trust again…Gavin.

Product Warnings:

This book contains an angry demon returning from the dead, a clan lord hiding a terrible secret, and a hunted heroine cracking open a can of whoop-ass. Watch out for creepy kitties, exploding bad guys, and some very sudsy shower sex.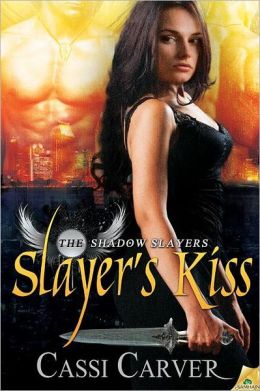 Title: Slayer's Kiss
Series: The Shadow Slayers, #1
Author: Cassi Carver
Publisher: Samhain Publishing
Release Date: February 14, 2012
Pages: 272
Buy Link: Amazon | BN

|

Sony

|

Samhain

Blurb:



When the past flies in your face, clip its wings.





Kara Reed is a supernatural failure. But where her magic falls short, her fists get the job done. The criminal element doesn't stand a chance once she hits San Diego's dark streets.





When two smoking-hot tenants move in next door, she thinks her love life might finally be heating up. Just being near Gavin and Julian is enough to make her want to offer her body on a platter.





Gavin and Julian know it's only a matter of time before the truth comes out. They're fallen angels sent to watch over the king's daughter, one of the last females of her kind. Trouble is, she doesn't seem to think she needs watching—unless they're watching her shimmy out of her clothes.





No matter how tempting her guardians, Kara's not about to let anything stop her from tracking down a sadistic killer who carves into his victims and leaves them for dead. Even when she realizes her target may be the very scourge of heaven from which her angels swore to protect her…



Product Warnings:



Contains a kick-ass heroine with a foul mouth, a kind heart and a raging libido, and two fallen angel warriors who wouldn't have her any other way. Watch out for sex in the clouds, a magical island of hedonism and a love triangle that gives new meaning to the term "hot-wings".
Sex, sex, and more sex. Oh my Og.
I'm not lying when I say half of this book is literally SEX. When I first started reading it, every page was filled with it; I can practically see the stench coming off the page. Whether that's good or bad is still yet to be decided.
What I enjoyed the most about this book was the action scenes. Whenever Kara or any of the winged men would fight, it was more a turn-on than all the sex that happened. Is that weird?
Gavin and Julian. Wow, this book sure was NOT predictable. I didn't like either Gavin or Julian until towards the end. I won't lie, I did want Gavin to be the guy at the end with the happy ending. I won't give it away whether he got it or not. Julian, on the other hand, seemed to me like a raging man who was way too possessive. Let's face it, I didn't like him. My opinion changed when he performed one act - the one act that he swore he would do until his last breath - protect Kara. I sure love men and their testosterone when used in battle!
The fighting scene during the climax of this book was so intense! I applaud the author for such vivid imagery. I was, however, quite disappointed that the volcano island wasn't really described. I was hoping I could travel there through the book. Oh well, the fight scene was enough.
Overall, I enjoyed this book. I'm not the biggest fan of fantasy, but this book did make me want to keep on reading. The coupling left little to be desired. The seemingly gigantic girths didn't really turn on the charm for me. Other than that, bravo!
Almost forgot, I absolutely loved Jaxon!! I hope I see him more in future books :) Check out this quote with him and Kara!
Kara: "Couldn't you have taught me these things after the lessons in how to resist soothing? I don't know crap about these people."
Jaxon: "I've done as much as I could in one week. Not much time was left after your lessons to me each night on the various flavors of Ben and Jerry."
Cassi Carver lives in sunny Southern California with two dogs, four kids, five chickens, and one hubby who gives great massages. She gets to San Diego's Gaslamp Quarter for research (okay, happy hour) as often as possible. She's never saved the world, but she keeps sexy boots on hand just in case the opportunity arises.
When Cassi isn't busy plotting or writing, she enjoys reading, spending time with family and friends, caring for pets, getting outdoors, and watching sappy movies that deliver reliably happy endings.