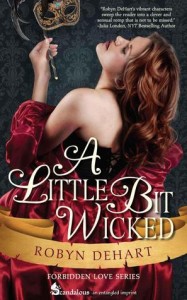 Title: A Little Bit Wicked
Series: Forbidden Love, #1
Author: Robyn DeHart
Publisher: Entangled Publishing (Scandalous)
Release Date: December 2, 2012
Pages: 229
Buy Link: Amazon

Blurb:

Marcus Kincaid has returned to England after a ten-year absence as the Earl of Ashford after his brother's untimely death. Unfortunately, his younger sister is embroiled in a potential scandal that could ruin her chance at marriage, and his aunt has already called in reinforcements—The Paragon.

Vivian March is known simply as The Paragon. She moves through every circle within Society, smoothing out scandals and stopping gossip in its tracks. Everyone in London knows that if she aligns herself with you, Society will forgive your sins. What they don't know is that she uses their secrets to cover her own jaded past.

But with every kiss and every touch that Marcus thrusts upon her, Vivian comes to believe life is infinitely more fun when you can be just a little bit wicked…
Review
This book started out slow for me, but when it picked up, I really enjoyed it. I've been reading so many historical romance lately, I think this would be my last one for a while. The rules of society back then is starting to get on my nerves.
Vivian had a scandal that no one else knew ten years ago. Seriously, if this was a modern story, that wouldn't even be an issue. Anyway, I love how Vivian carried herself with pride and grace. She was dubbed the Paragon because of that. Even if she felt like an impostor, I admired her. She could handle any situation unless of course Marcus was the situation. She was able to put on a face for society and be the best actor possible so that they won't know about the secret she hid.
Marcus, on the other hand, was younger than Vivian. Seven years to be exact. Something about her caught his eye and he refused to leave her side ever again. He was a renowned world traveler, and at some points in the story, his experience made him seem sexier than most. I just love his passion and never-ending patience when it came to Vivian. He may be young, but he knew just how to please a woman.
I also enjoyed the scenes where the women were at the modiste looking at fabrics and getting new dresses made. In addition to that, I liked the way the author described Vivian's outfits.
Overall, this was an enjoyable, and even scandalous, read. I would recommend it.
Check out my favorite scenes from the book!
"In order to find a bride, you will need to know what subtle messages women are sending you. In the delicate language of the fan, for instance."


He grinned, unable to help it."There is a language of the fan? And a covert language at that." He released a low whistle. "The queen really ought to enlist some women to serve in the espionage department. You lot are a clever bunch."
He leaned down and pressed a lingering kiss on her cheek. "You have my work that I will not touch you. I shall be a perfect gentleman. Tonight." He would not make promises for any other evening. He still wanted her. This afternoon had already been an exercise in restraint. Her lessons in flirting had him longing for a time when she would ask him, just once, to kiss her. Even if she did have to do it with a bloody fan.
I'm one of those writers who always knew that she wanted to be a writer. It took me a while, however, to figure out precisely what I wanted to write. Reading Kathleen Woodiwiss' "A Rose in Winter" sealed the deal for me and I've been reading and writing romance ever since. I should have known I was destined for this when my Barbies insisted on hosting elaborate masquerade parties, complete with stolen kisses in the moonlight.
I'm the youngest of three children, so of course I'm the favorite. I was raised in central Texas, in the beautiful Hill Country, right smack-dab between Austin and San Antonio. My parents were high school sweethearts and married a week after my mother graduated – they both needed their parents' permission to marry since they were so young. So I blame them and their amazing marriage for the fact that I'm a hopeless romantic.
Somewhere along the line, I graduated from college with a degree in Sociology, only after completing an internship with none other than award-winning best-selling author,

Pamela Morsi

. It was one of the coolest experiences of my life and I learned more about the writing business than I could have hoped.
After college I worked a myriad of jobs: Computer Software Trainer, Recruiter, Administrative Assistant. But no matter what my day job, I come home to my real job and click, click, click away on my computer and get lost in my imaginary world where justice always prevails and the girl always gets her guy! It's the coolest job in the world.
I'm married to the most amazingly supportive man. He's so proud of my career, and loves to tell people, "My wife is a romance novelist." We live in the Austin area, where my husband is a university professor. He's ridiculously smart, but remains goofy enough to make me laugh every day. We're the parents of two beautiful and precocious little girls who keep me quite busy during the day. We also have two very spoiled cats who are of no help at all when it comes to my writing, although they sometimes nap in the same room where I sit diligently working.
I've published seven historicals, all of which have received great reviews and a handful of them have won awards. I love to hear from readers,