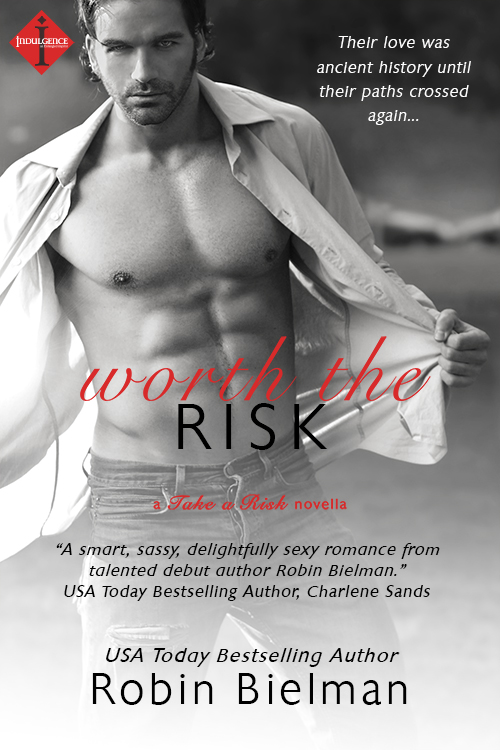 Title: Worth the Risk
Series: Take a Risk, #1
Author: Robin Bielman
Publisher: Entangled: Indulgence
Release Date: April 26, 2012
Pages: 121
Buy Link: Amazon

Blurb:



Their love was ancient history...until their paths crossed again.





Samantha Bennett put Dean Malloy out of her mind five years ago, when he broke her heart after a summer fling. But now he's back in her life, and ready to steal a heritage protection contract that could make or break her career--if he doesn't steal her heart first. Samantha's vowed to hate him, but it's more than anger heating the competition between them.





With sparks flying across the conference table and sizzling in every touch, Dean proposes a weekend liaison. Anything to have Sam again; anything to get her out of his system. But the unresolved feelings between them complicate both their personal and professional lives, and one wild weekend could turn into a disaster that would destroy the one job that means more to Samantha than anything. For a shot at love...is it worth the risk?
Review
It's a risky business falling in love...
Samantha and Dean made each other nervous, but they refused to show it to each other. They didn't realize they would be competing for the same contract. When they rekindled their affair of 5 years ago, they realized some things changed.
Dean realized he was very happy to have met Samantha for the second time. When a tough time in his family occurred, she was there without question.
Samantha wanted Dean, but she didn't trust him. She kept looking back to when he left her and broke her heart. Maybe just one more weekend will get him out of her system?
This book was romantic, but not quite the catchy story I always expect from Entangled books. I love the author's works, but this one didn't quite do it for me.
It's free right now on Amazon, so I would still give it a chance. After all, who doesn't like a good love story? :)